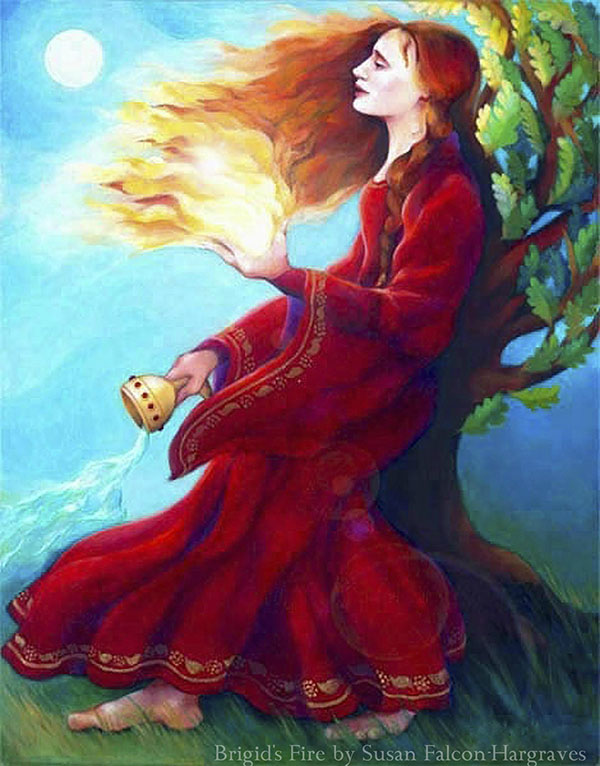 NOTE: This ceremony has been rescheduled to take place on Sunday, February 10th due to Luisa recovering from a bug that she doesn't want to share with participants! 
On this magical winter afternoon, we will invoke the presence of the goddess Brigid. Brigid is a pre-Christian Celtic goddess. She is a solar (versus lunar) goddess, an active, fiery creatrix who is a keeper of the flame and a guardian of the sacred waters, among other magical attributes.
We will ask Brigid to fuel and inspire us as we deepen our relationship to the beauty and power of our sexual selves and our creativity.
We will drum, create intentions, meditate, and use the shamanic journey technique to nourish the seeds of our feminine sexual-soul-force energy, our courage, creativity and passion.
PREREQUISITE: YOU MUST BE FAMILIAR WITH THE SHAMANIC JOURNEY TECHNIQUE, including:
• a working relationship with a power animal
• a departure point in nature
• an understanding of the lower, middle and upper worlds
To fulfill the prerequisite you can take Luisa's Introduction to Shamanic Journeying online audio course. If you choose this option, please complete the audio course PRIOR to the Brigid workshop. Let Luisa know you are taking the audio course to fulfill the prerequisite for the Brigid ceremony. 
WHAT TO BRING:
a drum/rattle, if you have one (there will be extras)
a sleeping bag/blanket for lying on the floor during journeys
journal and pen
eye cover
water bottle and a snack for break time(s)
medicine objects for the altar (please remember to take these home with you)
beautiful (and comfortable) ceremonial clothing encouraged
THE FOLLOWING WILL BE PROVIDED AT THE WORKSHOP:
light snacks
back jacks & chairs
drums and rattles
eye covers
ritual materials
The doors will open at 12:30 PM. Please arrive by 12:45 p.m. Doors will close at 1 p.m. We will finish at 6 p.m.
Painting "Brigid's Fire" by Susan Falcon-Hargraves 
By permission of the artist