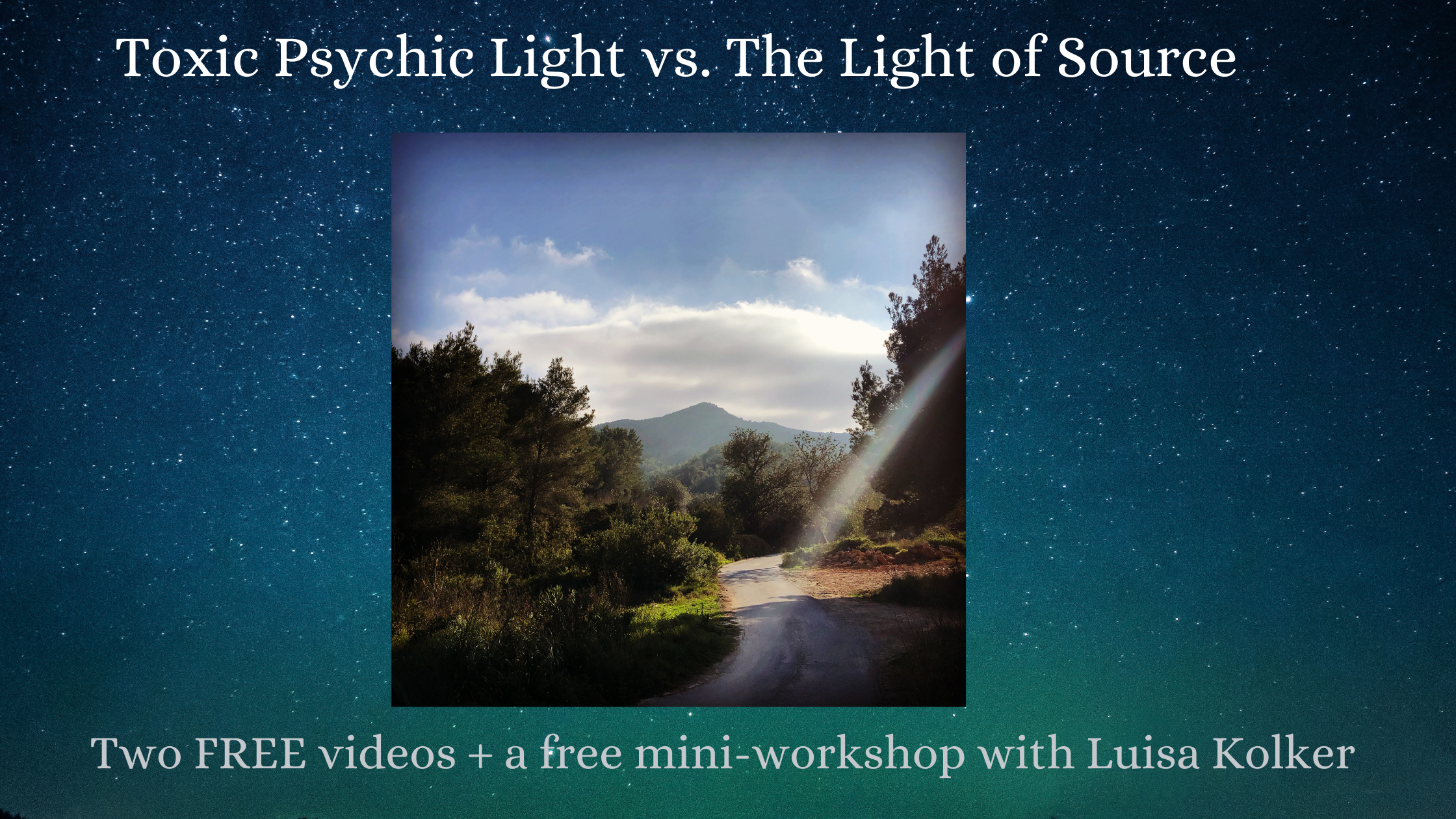 When you register to receive these two FREE videos, you'll receive a link to join my free 90-minute workshop on Toxic Psychic Light vs. Source Light on Tuesday, March 16, 2021 at 10:30 AM US Mountain Time.
PLEASE LISTEN TO THIS AUDIO MESSAGE FROM LUISA ABOUT TOXIC PSYCHIC LIGHT VS. THE LIGHT OF SOURCE
• Have you been attracted to someone who emanated a beautiful, seductive light, only to be be betrayed by them?
• Did you trust someone who had charisma and power, and then discovered that they had been lying to you?
• Did you have a parent who seemed to be larger-than-life, who acted like they were the God of the family, and who harmed you?
• Were you allured by a church or cult with the promise of "heaven," only to subsequently feel like you were in hell under their influence?
In this FREE two-video series, I'll share with you how to discern between two different types of energetic light. 
There is the light of Source, which is beneficent and inclusive. And, there is what I call Toxic Psychic Light, which is egoically-driven, manipulative, and divisive.
We need to understand the difference, especially as spiritual manipulation is epidemic right now.
It is important to discern between the inclusive, healing, unifying light of Source versus the seductive toxic light that is characteristic of the astral plane (what I call the "psychic playground").
The "psychic playground" is an aspect of the lower psychic dimensions. It taps into the imagery and energies of the lower astral plane, conjuring dramatic storylines, drama, ego-driven agendas, and delusion. In sexual, romantic relationships, an attraction to a person's cultivated, artificial, toxic psychic light can be catastrophic. And, the same is true in the larger arena of politics and spirituality.
YES, I WANT TO LEARN ABOUT TOXIC PSYCHIC LIGHT VS. THE LIGHT OF SOURCE