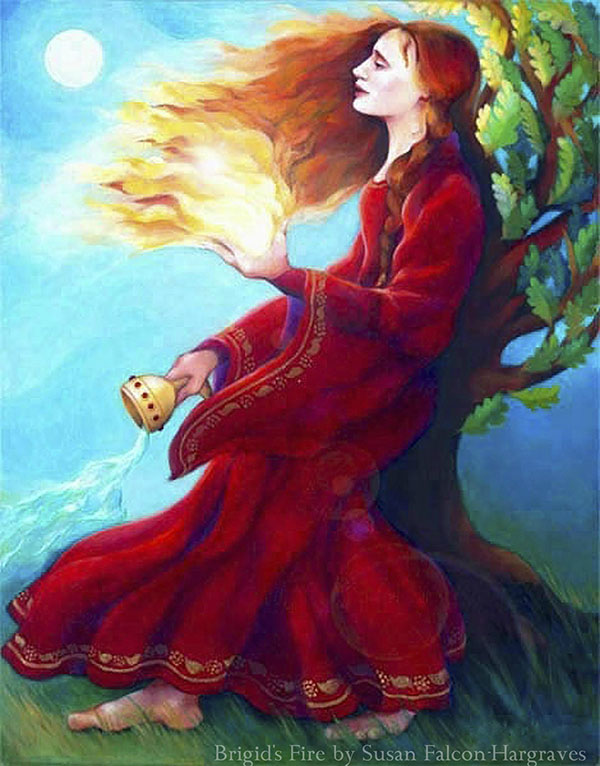 NOTE: THIS WORKSHOP/CEREMONY IS OPEN TO ALL WHO IDENTIFY AS WOMEN
There is an ancient tradition in the British Isles that on the first or second evening of February, when the pregnant ewes are preparing to birth their young, it is time to invoke the presence of the Goddess Brigid. In the Celtic wheel of the year this time is known as Imbolc which means "in the belly," a reference to what is about to born.

This year we will be journeying to meet and ignite the spirit of our Inner Teenager.
Your Inner Teenager is fundamentally connected with your creativity, sexual self-concept, and your visionary passion and imagination.
Your Inner Teenager includes two primary iterations: The Validated (or Vital) Inner Teenager and The Suppressed Inner Teenager. Your Inner Teenager holds incredible powers of seeing what is possible in our society, of embodying the naturalness of her/his/their erotic essence, and of truth-telling.
When we invoke Brigid, we are not only connecting with a pure archetype of the eternally youthful solar feminine, we are also conferring a blessing and a healing to the young woman that we once were.
For most of us, that maiden/young girl-woman was not properly honored, nor was she welcomed as a valid, precious, and potent member of the outer world. As we honor Brigid, we acknowledge, validate, and celebrate our own life-giving light.
There are no prerequisites for this workshop. However, your experience will be enhanced by having familiarity with the shamanic journey technique. You may purchase my online audio course Introduction to the Shamanic Journey to prepare for this ceremony.
THIS WORKSHOP/CEREMONY IS OPEN TO ALL WHO IDENTIFY AS WOMEN. 
MEMBERS OF THE BIPOC & LGBTQ COMMUNITIES: YOU ARE WELCOME AND SAFE IN MY SESSIONS, CEREMONIES, & WORKSHOPS